Office Space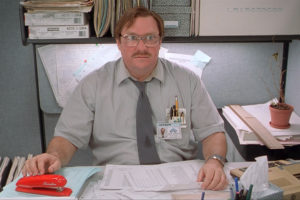 Summary: Classic cult comedy conquers your "case of the Mondays" by pointing out cubicles are crap.
Barely seen or discussed upon its release in the late 90s, Mike Judge's Office Space subsequently developed an underground following which propelled it to bona fide cult status. Sound like any other films we know? In fact, the similarities between Office Space and The Big Lebowski extend beyond their circumstances — they are philosophical brothers-in-armchairs.
Both films came out at a time of great economic boom, when easy money was being made (especially in tech) but people were starting to question the quality of life afforded by ubiquitous office-based jobs and career ladder-climbing. The wholesale mainstreaming of the New Age movement at this time suggested that despite material growth, discontent was lurking below the surface sheen.
When cubicle-toiler and regular guy Peter reluctantly undergoes hypnosis at the behest of his girlfriend, he finds himself suddenly, accidentally and semi-permanently transformed into a character much like The Dude in The Big Lebowski. In this state of persistent ataraxia, Peter finds it easy to "go with the flow" and perform Dude-jitsu on those who would harsh his mellow, notably his annoyingly passive-aggressive boss, Lumbergh. The result is that, like a voice crying out (or sighing out) in the wilderness, he reveals that transparency, honesty and calmness can provide a better way of life than the frustrations inherent in trying to "fit in" and "succeed." Hijinks ensue and in typical comedic fashion, things eventually fall apart, but the essential message of hope remains.
Related links:
Office Space: An Oral History on its 20th anniversary – featuring the original actors and filmmakers
« Previous entry: Bob Ross