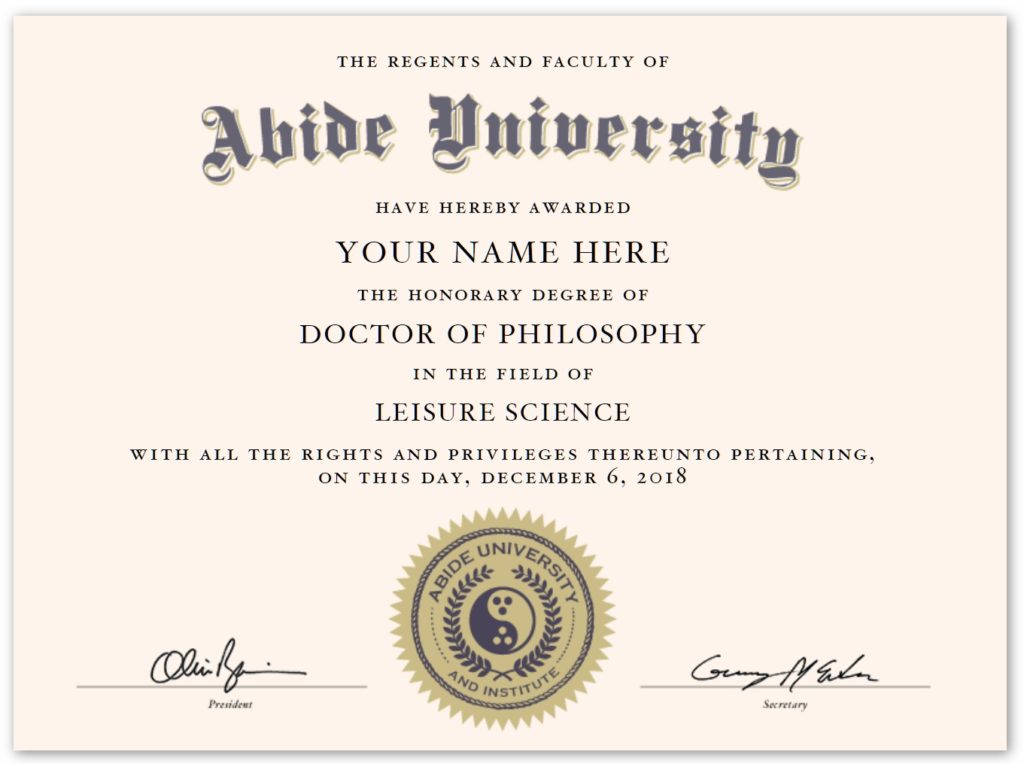 You can get various degrees here at no charge. Please proceed to the degree application.
(You must be registered and logged in to see and fill out the form.)
Congratulations! Abide University will give you a free honorary degree today without any study or qualifications. Why? Well, we have several reasons. (Please see below)
Our degrees are in non-standard fields of study. You probably won't find them offered by traditional universities. What we're trying to do is encourage new types of inquiry and investigation that aim to improve our quality of life.
You won't get a Ph.D in Economics here, but you can get one in Economicals (The study of thriftiness). And rather than a degree in Leisure Studies, you can get one in Leisure Science (investigations into relaxation). You can see our full list of fields here.
One could say that we take sort of a class-backwards approach towards the degree process: We first provide you the free degree, and then the responsibility is on you to study and contribute to our knowledge base, journal, and other publications and forums. faculty and named as professors.
Does this seem strange to you? Well it is strange. But we have our reasons (please scroll down to read them).
Some celebrities with honorary doctorate (Ph.D) degrees:
Meryl Streep
Ben Affleck
Jon Bon Jovi
Orlando Bloom
Oprah Winfrey
Ed Sheeran
Jimmy Kimmel
Prince Charles
Robert DeNiro
Mike Tyson
J.K. Rowling
Kanye West
Willie Nelson
Billy Joel
Jack Nicholson
Alec Baldwin
Aretha Franklin
Paul McCartney

Reasons why we offer degrees so readily:

1) Celebrities are given honorary degrees all the time, generally because of their celebrity status and not because they completed any study or demonstrated any proficiency. Here's a short list. Note that honorary degrees are not the same as "actual" degrees, though the titles (doctorate, Ph.D, master's) are the same.

2) Degrees are great, but if anyone assumes you know what you're talking about because you have a degree, they should probably think again. This classic comedy sketch illustrates how useless college degrees can be. (Of course, that's in reference to undergraduate degrees, which we also offer)

3) In many ways, higher education is not what it once was. Costs have risen much higher than inflation, while the value of a degree has dropped. In today's information economy, smart people are often better served by acquiring computer skills and entering the job or entrepreneurial markets right away. That's not to say that university education is valueless, only that it may be time for some things to change. We're playing with the possibilities.

4) With your help, we're hoping to build an alternative approach to education and thought. By making it easy, fun and rewarding, we're hoping to raise interest and awareness.

5) It doesn't hurt anyone and it's fun to be able to call yourself a doctor (as many other famous people have done) without having to slog through years of study. No respectable institution is going to offer you a job based on one of our degrees, however. But it might inspire you and others to look at the world in a new and different way.
Please proceed to the degree application.