Geopsychology is now a Mainstream field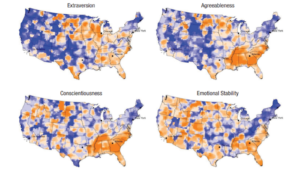 Category: Geopsychology
Summary: Who knew that Geopsychology was already a fledgling mainstream science? We didn't.
Link: https://bigthink.com/strange-maps/geopsychology-regional-personality-variation/
Abstract:
Did they copy Abide University? Or was it there already, all along? In any event, this article is an interesting addition to our field. Our interpretation of Geopsychology has more to do with travel and learning about different cultures, but this aspect is an interesting subset.
Date posted: June 13, 2022
(Edit Lead)
(Delete Lead)