The Dudespaper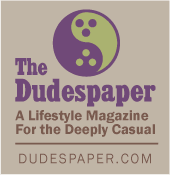 Category: Dudeism
Summary: Hundreds of articles since 2007 on Dudeism and the Dude way.
Link: http://dudespaper.com
Date posted: September 10, 2017
Description:
Started in 2007 by Oliver Benjamin and many other contributors, the Dudespaper is now sort of moribund as no one ever submits articles to it. And our more scholarly articles will be published at the Abide University Journal from now on. But who knows, maybe it'll come back to life again.
(Edit Lead)
(Delete Lead)