Mark Twain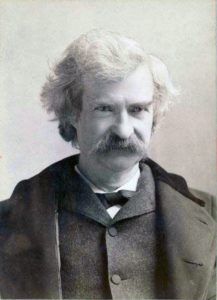 Summary: American philosopher and humorist
When you think of Mark Twain (the pseudonym of Samuel Clemens), chances are you imagine a bushy-haired old man strolling around in a white suit, puffing a cigar, and spouting wry, folksy sayings. Or perhaps you think of the two American classics he's most famous for authoring, The Adventures of Tom Sawyer and Adventures of Huckleberry Finn.
If so, then congratulations: you know the Disneyfied pop version. But like the Mississippi River that Twain loved so much, beneath that deceptively flat surface runs deep currents that still cut through our lives today.
It's not entirely accurate to say that "Mark Twain" was simply Sam Clemens' pseudonym. In many ways, it was more like his alter ego, much like Batman is Bruce Wayne's doppelgänger or Bob Dylan is Robert Zimmerman's. In similar fashion, "Mark Twain" came to embody the mercurial, creative daemon inhabiting Clemens' psyche.
Clemens took the name as a journalist in the Wild West during the Civil War, where he lived the rough-and-tumble life of a sagebrush bohemian. It would come to personify this unconventional life, especially when he visited the Sandwich Islands (Hawaii), hanging out "safe from the turmoil of life" with nude natives on the beach, and drowsing his "days away in a long deep dream of peace." He even went surfing (or attempted it).
Not only does this freewheeling sensibility flow through Tom Sawyer and Huckleberry Finn, it's influenced everyone from Ernest Hemingway to the rock band Rush ("Tom Sawyer") and post-punk rocker Nick Cave ("Saint Huck").
Related links:
« Previous entry: Ralph Waldo Emerson   Next entry: Albert Einstein »