Walden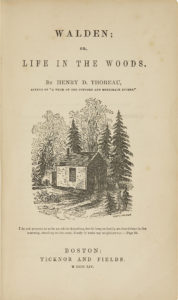 Summary: Thoreau's timeless meditation on living in harmony with nature
By Henry David Thoreau
The more things change, the more they remain the same.
This old maxim rings as true today in our rapidly changing times as it was in the 1850s when Henry David Thoreau wrote his classic meditation on the simple life, Walden. Despite being nearly two centuries apart, our wired age of virtual reality and artificial intelligence is as much a time of disorientation and dislocation as Thoreau's era was from the industrial revolution.
Although the impulse to go off-grid also remains as strong today as it was back then, Thoreau is among those who actually did drop out for a while, and he's one of the few who wrote an enduring philosophical tome about it.
Walden is the record of the two years, two months, and two days that Thoreau lived in a cabin he built in the woods near Walden Pond in Massachusetts. His goal, inspired by transcendentalism, was "to live deliberately, to front only the essential facts of life, and see if I could not learn what it had to teach."
Devoting his time to cultivating a life grounded in the natural rhythms of existence taught Thoreau important lessons about the benefits of living simply that can still speak to us today, if we just unplugged long enough to listen.
As it is, however, to paraphrase Thoreau's observation on the telegraph, we are in great haste to invent new communication technologies, but we have nothing important to communicate.
The more things change, the more they remain the same.
Related links:
http://simplicitycollective.com/
« Previous entry: The Abide Guide: Living Like Lebowski   Next entry: The Dude and the Zen Master »