Ferris Bueller's Day Off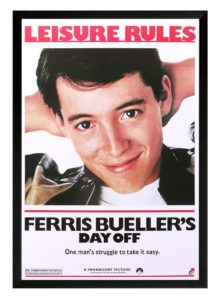 Summary: The cutup emerges victorious in this paean to believing in yourself
Aside from Ferris Bueller coming across retrospectively as an '80s era con-artist who later contributed to the financial collapse in '08, there are many abiding lessons conveyed by this John Hughes film.
Essentially, the materialistic, era of Reaganism when Hughes made the film was far removed from Ferris's fundamental insight that "Life moves pretty fast. If you don't stop and look around once in a while, you could miss it."
So kudos to Hughes for infusing his film with John Lennon's rejection of all –isms. Bueller reflects that "a person should not believe in an -ism, he should believe in himself. I quote John Lennon, 'I don't believe in Beatles, I just believe in me.' Good point there. After all, he was the walrus. I could be the walrus. I'd still have to bum rides off people."
If you set aside the '80s self-aggrandizing veneer exhibited by Bueller at times, the overall substance of his timeless carpe-diem worldview endures. Where is the quality in life in mindlessly pursuing what others say you're supposed to pursue, especially when there are ballgames, museums, and floats in life's parade to ride?
When his friend Cameron says that his father cares more about a fancy car than his own son and Ferris remarks that "a man with priorities so far out of whack doesn't deserve such a fine automobile," it still says something today about the ultimate importance of keeping one's life in proper perspective.
Related links:
https://www.theparisreview.org/blog/2011/12/26/totaling-the-ferrari-ferris-bueller-revisited/
https://www.rollingstone.com/movies/ferris-buellers-day-off-five-things-you-didnt-know-w486851
« Previous entry: The Razor's Edge   Next entry: Groundhog Day »