The Razor's Edge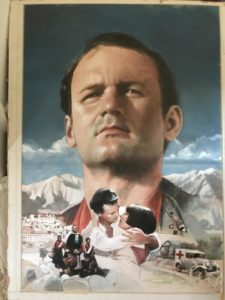 Summary: Bill Murray's unique adaptation of the Somerset Maugham tale of a spiritual seeker
It's never easy to translate the depth and complexity of a good book into a movie, or a celluloid narrative onto the page. Often, the medium is the message, as Marshall McLuhan famously put it.
Think about the lackluster attempts to adapt a book like The Great Gatsby to the screen. Or the largely forgotten film efforts surrounding Somerset Maugham's story of a young American's quest for enlightenment in The Razor's Edge.
The 1946 film starring Tyrone Power (with Maugham) may have garnered a number of Academy Award nominations and even one win, but it wasn't a big critical hit. The New York Times said the "earnest and expensive endeavor to put upon the screen (the book's) tenuous drama and morality" might appeal to "a great many people who are sentimentally inclined to its vague philosophy." Roger Ebert liked Bill Murray's overlooked 1984 adaptation, but still dubbed it "your standard 1960s hippie drama."
Maugham's story of searching for meaning in a world destroyed by a catastrophic world war is better suited for the written word. It's not easy to convey the book's emphasis on practicing "calmness, forbearance, compassion, selflessness and continence" in film's visual narrative style.
Both film versions, however, admirably attempt to capture the book's essential insight that "it's a mistake to think that those holy men of India lead useless lives." Actually, these gurus, like both movie versions, "are a shining light in the darkness."
Related links:
https://film.avclub.com/my-year-of-flops-case-file-27-the-razors-edge-1798211262
https://uproxx.com/movies/bill-murray-razors-edge-impact/
« Previous entry: Blazing Saddles   Next entry: Ferris Bueller's Day Off »