Harold and Kumar Go To White Castle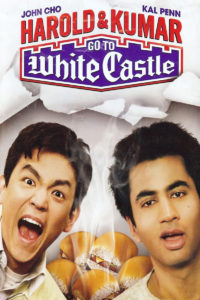 Summary: Classic modern stoner comedy that redefined the genre
Stoner noir, the genre of films generally promoting a pothead ethos, has certain elements that distinguish it from other movie categories.
It usually features a tight friendship between two close buds; there's casual sex or the frustrated pursuit thereof; lowbrow humor and comic violence abound; uptight authority figures harsh everyone's mellow; and there's often some convoluted adventure the two close buds embark upon.
And, of course, smoking weed permeates the plot like the lingering smell of pot smoke in a stoner's apartment.
Harold and Kumar, which follows the epic quest of two stoned friends to find an elusive White Castle restaurant after getting blazed one night, has all these qualities. Zany high-jinx ensue, including their encounters with a mechanic named Freakshow, an out-of-control Neil Patrick Harris (playing a parody of himself), and a stoned cheetah.
What distinguishes Harold and Kumar from the average stoner film, however, is the film's underlying philosophy. As one of the characters puts it:
"Look at me. I'm fat, black, can't dance, and I have 2 gay fathers. People have been messin' with me my whole life. I learned a long time ago that there's no sense gettin' all riled up every time a bunch of idiots give you a hard time. In the end, the universe tends to unfold as it should. Plus, I have a really large penis. That keeps me happy."
Of course, you don't have to fire up a blunt and ride a stoned cheetah to have that insight. But it probably wouldn't hurt, either.
Related links:
https://uproxx.com/viral/harold-and-kumar-go-to-white-castle-facts/
https://www.rogerebert.com/reviews/harold-and-kumar-go-to-white-castle-2004
« Previous entry: Groundhog Day   Next entry: Epicureanism and Stoicism »