Yogism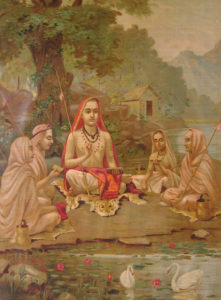 Summary: The grand overarching philosophy of which the poses (asanas) are only a small part
Not to be confused with the quirky aphorisms of baseball legend Yogi Berra, yogism here refers to the philosophy underlying Yoga.
Although this ancient Indian practice is largely responsible for today's yoga pants/shorts phenomenon, serious practitioners of Yoga know it is even more profoundly revealing on a psychological/spiritual level than it is as a fashion statement.
It goes at least as far back as the 2nd century BCE when the Hindu mystic and philosopher Patanjali wrote the Yoga-sutras. However, it probably extends even further back into prehistory to ecstatics mentioned in the early Vedic texts. The word "Yoga" itself is Sanskrit for "yoking" or "union", implying a spiritual discipline that leads to merging human consciousness with the Divine.
So there's a lot more to Yoga than a nice, relaxing workout. The four main paths of Yoga, in fact, incorporate rigorous mental and physical disciplines – Karma (action), Bhakti (emotion), Raja (control), and Jnana (knowledge/wisdom).
The goal of these disciplines isn't so much a hot bod as it is spiritual liberation. As the Encyclopedia Britannica puts it:
An aspirant who has learned to control and suppress the obscuring activities of the mind and has succeeded in ending attachment to material objects will be able to enter samadhi—i.e., a state of deep concentration that results in a blissful ecstatic union with the ultimate reality.
With Yoga's emphasis on combining mental and physical regimens for a higher purpose, perhaps it has some connection to Yogi Berra after all, who once observed, "Baseball is 90 percent mental. The other half is physical."
Related links:
https://www.britannica.com/topic/Yoga-philosophy
http://www.sivananda.org/teachings/fourpaths.html
https://www.elephantjournal.com/2011/05/why-yoga-means-union-the-spiritual-historical-and-psychological-reasons-and-why-patanjalis-yoga-sutras-had-nothing-to-do-with-it/
https://yogiberramuseum.org/about-yogi/yogisms/
« Previous entry: Transcendentalism   Next entry: Pastafarianism »