Bob Marley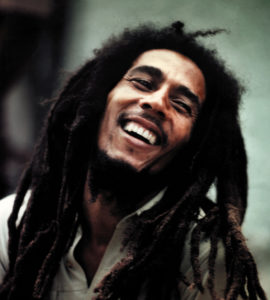 Summary: One of the 20th century's most philosophical and humanistic musicians
According to Pure Land Buddhists, reciting Amitabha Buddha's name results in rebirth in his Pure Land after death. Similarly, uttering the name "Bob Marley" conjures up positive vibrations now in this life.
Of course, firing up a blunt while listening to one of Marley's classic reggae albums might help as well. But while he lit up herb as a Rastafarian sacrament, Marley also advocated lighting up the darkness as well. For him, there was a direct connection between the two.
Rather than getting stoned through toking weed, Marley promoted getting high instead (as in elevating your mind and deepening your soul in order to "lively up yourself"). As he once remarked in an interview, "Now, when you smoke, it make you cool, you know? It make you stimulate your mind, and make you sit down and meditate. Instead a get foolish, you sit down and you can meditate and be someone. Rum teach to you be a drunkard, and herb teach you to be someone."
Marley's meditations permeate his music like the thick ganja after smell. Many of his lyrics have become modern proverbs: "Love the life you live/Live the life you love", "Emancipate yourselves from mental slavery/None but ourselves can free our minds", "Say you just can't live that negative way/If you know what I mean/Make way for the positive day".
These lyrics, which are like guideposts along life's road, didn't come to Marley through smoking marijuana and numbing out, but as a way to "wake up and live".
Related links:
http://www.bobmarley.com/history/
http://www.pbs.org/wnet/americanmasters/bob-marley-about-bob-marley/656/
http://brightdrops.com/bob-marley-quotes
« Previous entry: Diane di Prima   Next entry: Douglas Adams »