Diane di Prima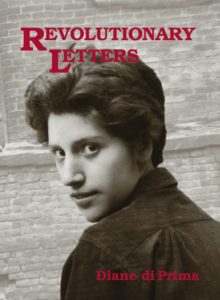 Summary: Relatively unsung hero of the Beat movement
When it comes to the Beat movement, it can sure look like a sausage party.
Everyone knows about Beat cats like Jack Kerouac, Neal Cassady, Allen Ginsburg, Lawrence Ferlinghetti, and so on. But what about the Beat chicks? Weren't there any influential female writers and thinkers marching to the sound of a different bongo?
There were certainly were and, according to Women of the Beat Generation: The Writers, Artists and Muses at the Heart of a Revolution, "archetypal Beat woman" Diane di Prima has a place "alongside the men as the epitome of Beat brilliance."
Di Prima dropped out of Swarthmore in the early '50s to follow the poetic muse to Greenwich Village and become a writer. Not only did she befriend many of the guys in the aforementioned sausage fest there (Amiri Baraka, Ginsberg, Kerouac, and others), she went on to found her own publishing press, write 30 books of her own poetry, study Zen and Tibetan Buddhism in ashrams, and hang out at acid guru Timothy Leary's Millbrook community.
And on top of it all, she raised and nurtured her five children.
In her poetry, which combines stream-of-consciousness with form, and politics with spiritual practice, di Prima has reflected on the guiding influence underlying her life as a writer, mother, and activist:
…it was truth I
brought down with me
to this sullen and dingy place that we must make golden
make precious and mythical somehow, it is our nature,
and it is truth, that we came here…
Related links:
https://www.poetryfoundation.org/poets/diane-di-prima
https://poets.org/poet/diane-di-prima
« Previous entry: Ken Kesey   Next entry: Bob Marley »