Ken Kesey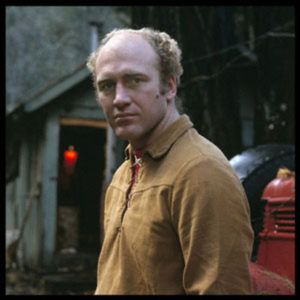 Summary: Author and seminal progenitor of the 1960s counterculture
One of the most enduring figures of the '60s counterculture is someone who once rode a bus across America and took the country along for what has been one long, strange trip.
Before the embarking on that mind-bending journey, Ken Kesey was a promising young author whose first novel, One Flew Over the Cuckoo's Nest, was a huge success in 1962. Few in the Pat Boone era knew, however, that Kesey's depiction of American society as a mental hospital was inspired by his pioneering experiences with psychoactive drugs like mescaline and LSD.
As a graduate student in creative writing at Stanford, Kesey was hard-up for cash. He expected to earn a little pocket change after unwittingly volunteering as a test subject in CIA-run MKULTRA drug experiments. Instead he walked away with a transformed consciousness and some stolen LSD to share with his friends.
Along with writing much of Cuckoo's Nest's first draft on hallucinogens, Kesey and his crew (calling themselves The Merry Pranksters) plunged further into the day-glo depths of a new psychedelic enlightenment. These heady explorations culminated in 1964 with their intrepid cross-country trip aboard a multi-colored bus named Furthur, spreading their gospel of LSD to the masses.
Their zonked-out adventures had mixed results, leading to the Grateful Dead and Woodstock as well as Syd Barrett and Altamont. But its legacy also manifests today in hacky sack-playing hippie wannabes still following Kesey's dictum "to get out and pray to the sky to appreciate the sunshine; otherwise you're just a lizard standing there with the sun shining on you."
Related link:
http://www.pbs.org/opb/thesixties/topics/culture/newsmakers_3.html
https://www.telegraph.co.uk/books/what-to-read/trip-of-a-lifetime-ken-kesey-lsd-the-merry-pranksters-and-the-bi/
« Previous entry: Alan Watts   Next entry: Diane di Prima »