Harvey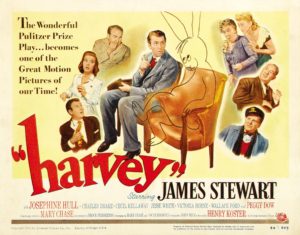 Summary: Surreal and sentimental, but transcendent look at life
On its surface, the movie Harvey (1950) appears to be a charming story about an easy-going (albeit eccentric) man named Elwood P. Dowd and his friend, an invisible 6-foot 3 1⁄2 inch rabbit named Harvey.
Beneath its lighthearted surface, however, the story taps deep, mythological roots and celebrates creativity's healing power.
Harvey, which starred James Stewart in his favorite role, was originally a Pulitzer Prize-winning play. The playwright, Mary Chase, said she was inspired by Celtic folk tales she heard growing up about benevolent nature spirits, the púca (pronounced "pooka"), that appear in animal form only to those who believe in them.
According to Chase, such a creature came to her in dealing with some of life's hardships. After writing a Broadway play that flopped, she swore off writing until after World War II when she encountered a widow whose son was killed in the Pacific. Chase wanted to write something that could make this woman laugh again.
She didn't know how until she had a waking vision one morning of a huge white rabbit in her bedroom. From that creative flash, a púca hopped from her childhood memories into her play that oddly consoled people grieving loved ones lost in the war. Chase, in fact, received many letters from them saying that until seeing Harvey, they had not laughed since their loss.
Who knows from where inspiration springs, but maybe it's inclined to appear to those like Mary Chase and Elwood P. Dowd who believe in things not everyone else can see.
Related links:
http://www.tcm.com/mediaroom/video/62645/Harvey-Original-Trailer-.html
http://irishamerica.com/2016/10/mary-chase-the-woman-behind-harvey/
« Previous entry: Modern Times   Next entry: Cool Hand Luke »