Modern Times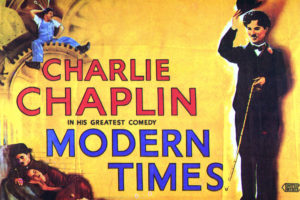 Summary: Introduced the Little Tramp, the original lovable anti-hero
Although Charlie Chaplin produced this (mostly) silent film comedy during the Great Depression, Modern Times remains an abiding classic.
What makes this film and its iconic hero, the Little Tramp, so refreshingly relevant today? It isn't the surprising moments of drug-related humor or the overt depictions of class conflict that call to mind current ideological clashes on campuses. These things come and go with the ebb and flow of each passing era. What makes Modern Times so enduring is Chaplin's hopeful insistence that through it all what makes us essentially human will prevail.
As Chaplin's biographer, Jeffrey Vance, notes, "The Tramp's travails in Modern Times and the comedic mayhem that ensues should provide strength and comfort to all who feel like helpless cogs in a world beyond control."
The film's unflinching, hilarious take on serious issues like the dehumanizing effects of mechanization, the loss of meaningful work, and the disintegration of old paradigms like "The American Dream," steers clear of the dark nihilism coloring so much comedy today. While Chaplin doesn't shy away from the darker aspects of modern life, he focuses more on the indefatigable light of the human spirit that struggles to shine on despite them.
The movie ends on an ambiguous note, in fact, where the Tramp and his girlfriend, Gamin, are unemployed again, penniless, and still on the run from the authorities.
Instead of conceding defeat, however, the two walk on together into the rising sun of a new day full of uncertainty but also possibility.
Related links:
http://www.filmsite.org/mode.html
http://www.charliechaplin.com/en/films/4-The-Circus/articles/11-Modern-Times-Synopsis
« Previous entry: Jeff Bridges   Next entry: Harvey »