Hedonism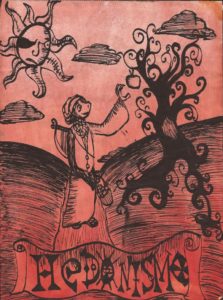 Summary: Though mistaken for overindulgence today, Hedonism was a rational approach to life that, like Epicureanism, was far deeper than the current meaning of the word might suggest.
The term hedonism is often bandied about as a pejorative, often used in the same breath as the three dreaded Ds of moral rot: "decadence", "debauchery", and "depravity". Think of the collapsing Roman Empire, Germany's Weimar Republic, or Studio 54 in late '70s America.
However, with its roots in the Greek word hedone, which simply means "pleasure", the term basically applies to philosophies that view seeking pleasure and avoiding pain as the main motivation behind determining a good life and how to live it.
Although variations of hedonism can be found at the heart of various worldviews, such as Epicureanism, its earliest written record appears to be an ancient Indian philosophical tradition called Carvaka. Based on the Barhaspatya sutras, this materialistic school of skepticism asserted that right action is what brings the most sensual pleasure.
Hedonism began to get a bad rep when Medieval Christianity condemned its "this-worldly" pleasure principle as undermining Christianity's emphasis on sacrifice in this world for an eternal, heavenly reward later. Since the Renaissance, hedonism has revived in a variety of forms, ranging from the libertine philosophies of the Marquis de Sade and occultist Aleister Crowley (whose influence today remains largely unrecognized), to Playboy founder Hugh Hefner's sex bunnies and the '60s hippie movement.
Most recently, rave culture's celebration of peace, love, and unity while tripping balls on molly has continued to advance the hedonistic impulse, while some, like Russian physicist and philosopher Victor Argonov, see it as playing an integral role in the future development of a "post-human" civilization.
Related links:
http://www.iep.utm.edu/hedonism/
https://www.philosophybasics.com/branch_hedonism.html
https://www.spectator.co.uk/2017/08/thirty-years-ago-britain-invented-acid-house/
https://jetpress.org/v24/argonov.htm
« Previous entry: Taoism   Next entry: Zen Buddhism »